Technology: Projection mapping, gaming, audio manipulation, mixed media, conductive paint, physical digital
Flappy Jonny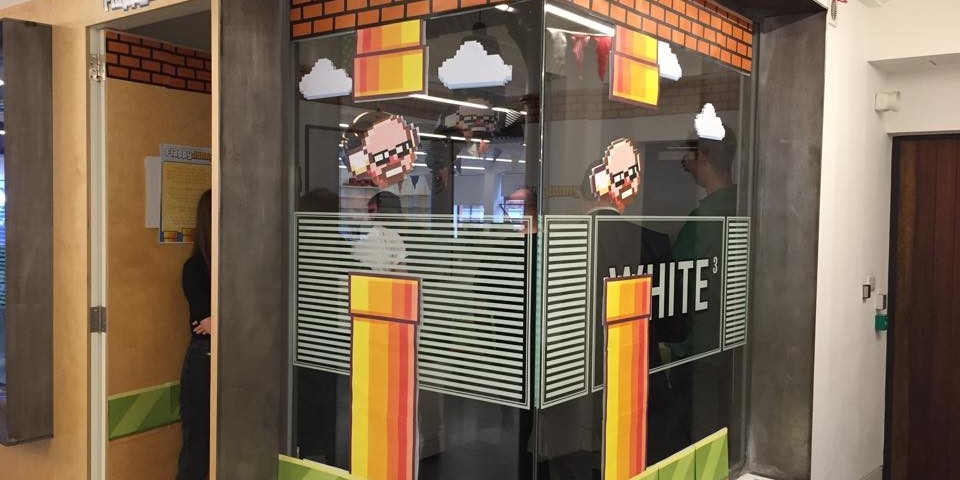 Jonny's in a flap again! Help him fly though the office in record time using nothing but the with the power of a good wrist action in this 8-bit fun adventure, connected to some cutting edge gesture controllers.
Technology: 8-bit aesthetics, "leap motion" gesture control, game control hacking
The Majeggal, Eggceptional, Obsteggle Egg & Spoon Race Eggstravaganzal
Behold! The ultimate eggsample of digital yolk based gyroscopic agility has finally hatched!
Don't crack under the pressure as you naveggate your way through the ultimate egg and spoon race. Race against the clock and defeat eggstraordinary challenges to be crowned top egg. You'll laugh. You'll cry. You'll plead for us to stop repeating the same puns egg-gain and egg-gain. See you there!
Technology: Mobile development, motion and gyroscope control, experiential, eggs, a special retro prize
ShnappsChat
What's better than having a well earned drink? Having a well earned drink with friends of course. Simply scan our drink themed posters from anywhere in the building, and order a customised cocktail for either yourself or a friend…there's no need to wait, we'll tell you when its ready, then meet at the Fete. Cheers!
Technology: Systems development, back-end tech, illustration, cocktail making, alcohol, our Prague team, sharing
Shyconuts
Heading to the fete to shy away from work? Well don't be too shy… Come and digitally whack some stubborn nuts. Coconuts, that is. Our classic fairground coconut shy, with a touchscreen twist is back by popular demand… full stocked with the relevant prizes for all you winners out there. Find us by the palm trees.
Technology: Dual screen gaming, web sockets, touch/gesture control, gaming, fair ground politics, Coconuts, palm trees
6 Seconds of Awesome
Ever wanted to make an amazing
stop-motion vine? Let Kin help you, with pre-made sets and professional software to turn around your own 6 second marvel.
Swing through
the social jungle with pride by making some vines using the pro equipment and techniques
Technology: Stop motion, Vineology, social, fun
Sonographic Soundmachine
Have you ever wondered what sound looks like? Bang, tap and squeeze objects and see how different sounds effect our Sonicgraphic Soundmachine in realtime.
If your brave enough share what you've done.
Have you ever wondered what sound looks like? No? Neither did we… until now thanks to some realtime audio manipulation.
Technology: Audio systems, physical-digital, 3D animation, real time visual manipulation, music, instruments
Bang on time
Complete our physical-digital challenge in the quickest time to win an exclusive surprise prize!
Enter our room of riddles and switches. Crack the clues and complete the circuit. You'll be one step closer to that electronic qualification you always wanted in this Internet of Things race against time experience.
Technology: Clues, problem solving, experience design, electronics, physical digital
The Big Phat Phete Quiz of the year